EPS-Deck Concrete Deck Forms, the Ultimate Concrete Deck Forming System, by Design

With over 30 years' experience in designing EPS Concrete Slab Forms, the EPS-Deck team believe they have created the ultimate lightweight, concrete deck forming system, manufactured locally across Canada and the USA for environmental and cost advantages, and with a host of noteworthy speed, strength and cost benefits for concrete deck installers and contractors.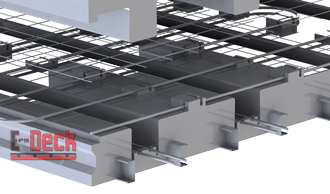 With the significant shift to green ICF & concrete construction in Canada and North America, EPS-Deck is the deck form of choice for Architects, specifiers and contractors. EPS-Deck insulated concrete deck forms are also ideal for Green Roof Construction, Safe Room Ceiling Construction, in fact any intermediate concrete floor for residential or commercial buildings.
​Engineered, Effective, Economical Concrete Deck Forms
All EPS-Deck insulated EPS concrete floor or roof forms are designed to an exacting specification, strong, secure, with rapid, simple assembly on site. Formed from high quality type 2 expanded polystyrene, with steel or wood support beams doubling as furring attachments, and with integrated mesh support track that also seals against concrete bleed water drip and integrated rebar chairs included in the price. EPS-Deck insulated concrete deck forms can also incorporate PEX/Mesh track for radiant floor heating systems – or for the superior Legalett air radiant heated floor slab system.