Deck Forming Products & Accessories
Standard Components Built into the EPS Form Design:
Integrated Mesh Support Rack:
​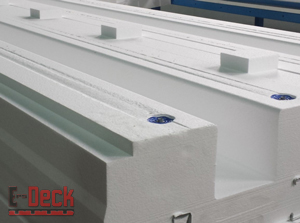 Included standard as part of the EPS-Deck concrete deck forms is an integrated mesh support track designed to work with 6"x6", 6/6 wire mesh for reinforced concrete.
Integrated Rebar Chairs:
​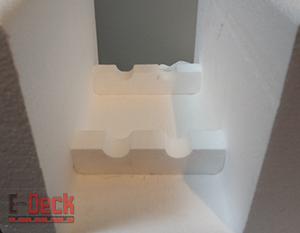 EPS-Deck has designed our deck forms to include rebar chairs which twist lock into position in the bottom of the beams. EPS-Deck Rebar Chairs which will accommodate 10m (1/2") up to 25m (1") rebar.
Integrated Steel Studs Include CeilingLock when Spans are 20' or More:
​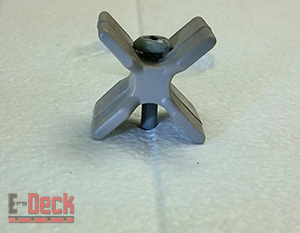 EPS-Deck includes a built-in mechanical tie-back (CeilingLock) to the concrete floor when spans reach 20ft or more.
The steel studs in EPS-Deck are used to support drywall on the bottom of the deck, via metal furring strips that are fastened to the bottom of the steel studs. Once you get spans past 20', it could be argued that the steel stud is no longer strong enough on its own to support the drywall, so the Ceiling Lock is fastened to the top of the steel stud to mechanically fasten the stud back into the concrete at span midpoint – the Ceiling Lock sticks up into the concrete, so when the concrete is poured, the Ceiling Lock (and screw that connects it to the stud below) are firmly embedded in the concrete, thus locking the ceiling to the concrete.
EPS-Deck Concrete Deck Form Options
Specialized options unique to the EPS-Deck Concrete Deck Form system include:
An integrated "Beaver Tail" design:
​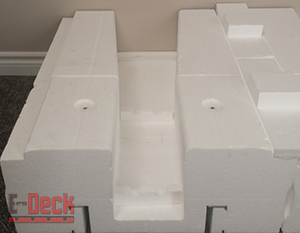 The beam width increases from 6" to 9" over 8' at each end of the panels. This shape will increase the shear capacity of the beams and can replace the need for shear stirrups which are expensive and time consuming to install.
Thicker Insulation below the beams:
​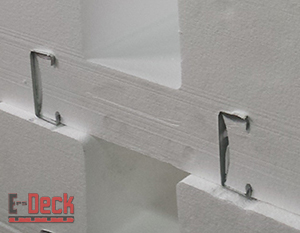 The industry standard of EPS below the beams is 2". The superior EPS-Deck deck forming system can increase this up to 6" when higher insulation values are required, as in a flat roof system or insulated green roof system.
Shown above is 4" of EPS below the reinforced concrete beam.
PEX Track
​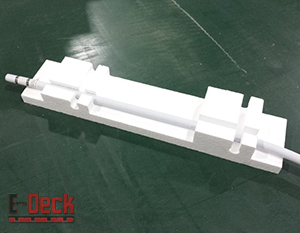 EPS-Deck can be specfied to have PEX Track built into the Deck Forming System which locks hydronic radiant heating 1/2" PEX in on top of the deck. Installing PEX on top of the deck rather than on top of the mesh can reduce the overall concrete thickness required from 4" to 3" giving considerable cost savings. Check with your engineer to confirm this will work for your project.